Top 25 Gadgets You Need to Study Smarter [from $20]
Ever heard of an intelligent egg tray? Welcome to 2022!
Today, there are gadgets for everything, and the variety of intelligent devices available increases every day. Some of them can improve your life. Others seem a bit useless. Will a smart egg tray actually add value to your life, or is it just a fun gadget? It tracks the number of eggs left in your fridge and their expiration date – you can see this information on your phone.
Jokes aside! Several appliances can certainly improve your study process. Our experts have done some research and want to share their findings. Here, you will find the top study gadgets for college students and other helpful devices for productivity, health & wellness, and fun.
Where's the start button?
Gadgets for Studying – Pros and Cons
Technology has changed education forever. Without specific devices, online learning wouldn't be possible. There is a wide variety of tools to help you study faster and stay more focused. However, including extra gadgets in your study routine does not always make sense. Consider the advantages and disadvantages of each device you purchase.
| Advantages | Disadvantages |
| --- | --- |
| Higher efficiency and organization. You know that the gadget works well if you feel more in control of your time and actions. | Some gadgets are pretty pricy. Innovative technologies are generally not cheap. |
| Delegating some tasks. You can leave some mundane duties to gadgets and save time. | Gadgets need extra care. You will often find yourself charging, cleaning, fixing, and looking for your devices. |
| Replacement. One device can be a lighter and more convenient substitute for multiple non-digital objects. | Gadgets can become outdated quickly. Technological progress is always moving. |
| More possibilities. You can monitor, study, communicate and do other things in a way that wouldn't be possible without gadgets. | Devices are unsustainable. Some gadgets are not designed to last long. The more you buy, the worse it is for the environment. |
| Entertainment. Well, some gadgets are just for fun. | Reliability. A gadget can break, or its battery might run out at the worst possible time. |
Gadgets can make your life better if you know exactly what you need them for. It depends on you and how you manage your time. You can study with your laptop or spend the whole day binge-watching shows on Netflix. You mustn't abuse your devices and use them responsibly and to their fullest.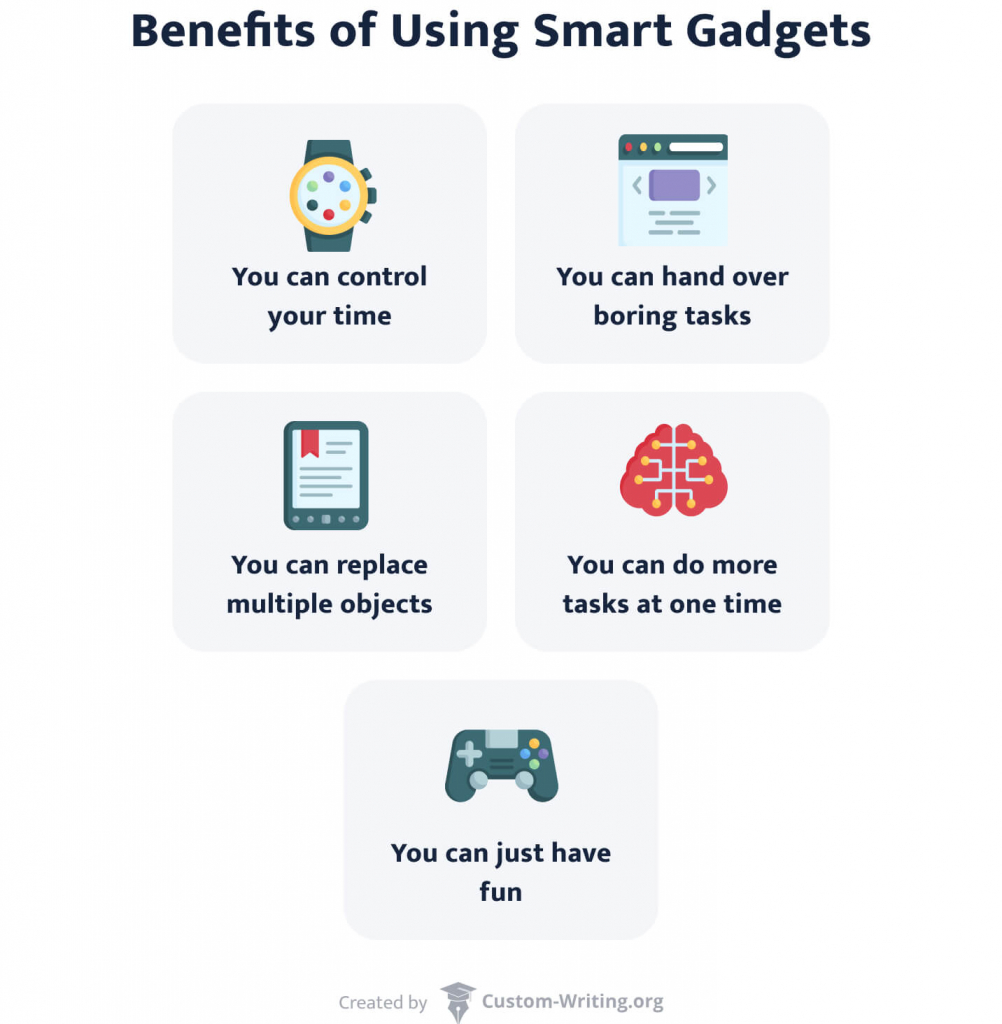 🖱️ Best Gadgets for Studying
Devices can make your learning process easier and faster with better results.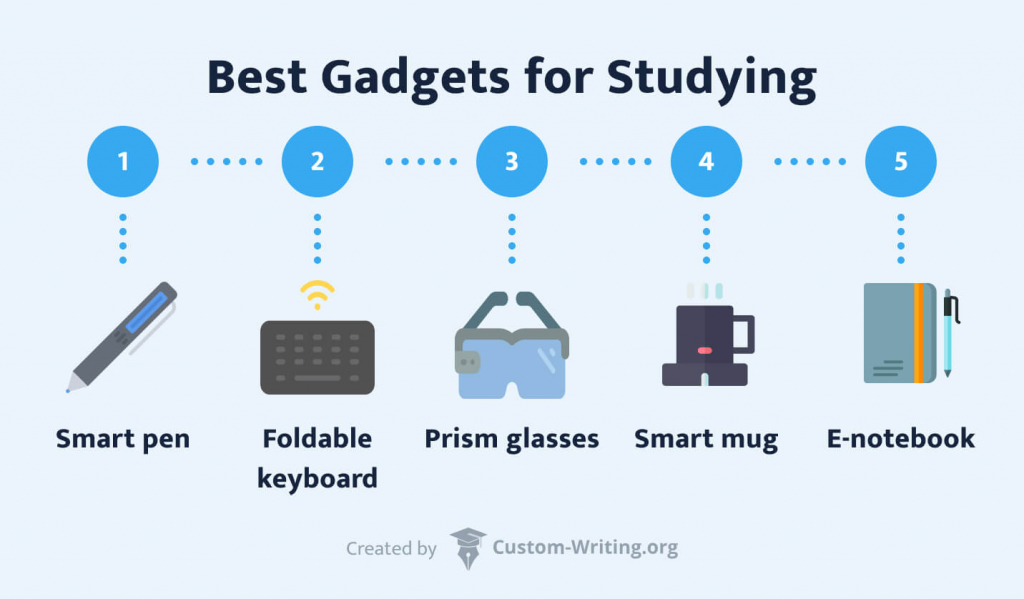 Here are our recommendations:
Smart Pen

Writing by hand helps you memorize things better. However, e-notes give you more opportunities to adjust and enhance your writing. A smart pen allows you to have a digital copy of your paper notes. Multiple saving options exist (PDFs, images with your handwriting, transcribed Google Docs). Some smart pens can even record audio files if you get tired of writing.

Purchasing an intelligent pen also means getting a special notebook and an app.

Price range:

$10 to $400, offering something for every budget.

Prism Glasses
Are you a lazy reader? If yes, this is the perfect gadget for you! Prism glasses allow you to read while lying in bed without harming your eyes or back. It is an ideal solution for students who spend too much time sitting during their classes and in the library.
Price range: around $15 on Amazon and are definitely worth the price!

Foldable Keyboard
Carrying a laptop all the time might become problematic if you have other things in your bag. What about a tiny keyboard that you can connect to your phone or tablet? A foldable keyboard is not much bigger than a small notebook; some can even be rolled. It usually works with a USB or Bluetooth and has a battery.
Price range: $5 to $400.

Smart Reusable Notebook
Imagine having one notebook for all subjects for several years! This is possible with an intelligent notebook with reusable pages that uploads your notes to cloud storage. Most e-notebooks come with a special pen that allows you to erase your writing with a piece of cloth or microwave heat. The notebook has dot-grid pattern pages to let you quickly capture the content with a smartphone.
Price range: $14-45 for a sustainable gadget that reduces paper waste.

Text-to-Speech Tool
Text-to-Speech (or simply TTC) is a tool that reads digital texts aloud. This is a great decision when you need a break from reading.
You don't need to buy a new gadget for this one. The features already exist in smartphones, laptops, and tablets. There is also more advanced software that offers TTC. Or you can install an extension on your browser and check if the websites you read have TTC options.

Smart Mug
Have you ever forgotten about your coffee or tea, so it became undrinkable? An intelligent mug can control the temperature of drinks based on your preferences. Most importantly, some mugs are spill-proof – you don't need to worry about damaging your laptop or other belongings. Most of them have a battery life of around 8 hours and can be charged using a USB cable.
Price range: $20-$200

🚀 Productivity Gadgets

Time is the most precious resource we have. That is why so many people work hard to master their productivity and invest in gadgets that assist.

Here is what can be helpful for students:

Energy Patch
Do you know that a small electric device can replace energy drinks? It's completely sugar-free!
An energy patch is a unique neurostimulation tool placed behind your ear. It enhances your stamina and concentration using micro impulses. This technology is a safer and healthier replacement for caffeine and does not cause dependency.
Price range: from $85 to $170 and consists of 8-50 patches.

Distraction-Blocking Device
Just telling yourself not to check your phone often doesn't work. Numerous methods can solve this problem. You can install a specific app, or browser extension, or even get a gadget.
A distraction-blocking device will help you eliminate all digital notifications once placed on your workstation. It can also display a timer that shows how much time you have spent working on a task.
Price range: $200 – $400

Noise-Canceling Headphones
It doesn't matter what you listen to – a new album of your favorite singer or an educational lecture. Canceling extra noise is always beneficial. Noise-blocking headphones save you from the audial distractions that surround you.
Price range: from $250 to $1000 for professional ones.

Smart Backpack
Smart backpacks are not only for traveling! Students can also enjoy their convenience in daily life. What do you get with a smart bag? Anti-theft features, USB charging ports, many compartments, plenty of storage space, and water resistance.
Price range: $20 – $60, depending on the size of the backpack and what it's made of.

Portable Printer
Are you tired of reading from the screen? Maybe, your professor requires printed homework all the time? A portable printer is an excellent aid for students, office workers, and travelers. It is very convenient as it fits into a small bag, can be wireless, and has rechargeable batteries.
Price range: the smallest ones cost about $50; standard size is roughly $300.

🧘 Health & Wellness Gadgets for Students

While the study is a key priority, taking care of your health is also essential. In the long run, physical and mental well-being will guarantee better results and reduce the likelihood of burnout.

Take a look at this list of health tools:

Activity Tracker
An activity tracker can be helpful both in daily life and sports. There are different activity trackers: apps, smartwatches, smart rings, etc. The standard functions are calorie tracker, step counter, heart rate monitor, and sleep tracker. More advanced gadgets also have GPS, digital payments, and music storage.
Students can use activity trackers to ensure they get enough physical exercise and sleep well. In addition, the device can be your alarm clock and fitness reminder.
Price range: many activity tracking features and apps are accessible on smartphones. Devices like Apple Watch cost about $400.

Brain-Sensing Headband
An innovative headband uses multiple sensors to scan your brain activity. The brain-sensing gadget determines fatigue, sleep problems, or other unhealthy states. You just need to wear this band and connect it to an app. It offers advice based on your brain activity and can even recommend medication.
Price range: like any new technology, the device costs $400.

Metabolism Tracker
Metabolism determines how fast you can lose or gain weight. That is why knowing your metabolic rate can help to develop better eating habits and exercise routines. This device indicates your metabolic rate by measuring the amount of oxygen you use and the carbon dioxide you produce while breathing. The gadget creates day plans based on your metabolism and data (weight, eating habits, goals). It includes meal schedules, food choice suggestions, and many more pieces of advice.
Price range: you can purchase a basic metabolism tracker for $300. Advanced and professional gadgets can cost up to $6000.

Air Purifier
The air quality might harm your health if you live in a city. Some areas prone to wildfires and close to chemical plants are pretty dangerous too. An air purifier can save you from inhaling toxins, allergens, and dust. There are two types of air purifying systems: filters and UV light. The gadgets also differ in size, but a portable air purifier is the best choice for a student.
Price range: you can buy one for up to $100.

Self-Cleaning Water Bottle
Allow your lazy self to be happy. A self-cleaning water bottle has a built-in UV-C light that kills bacteria. A button on the cap activates a cleaning cycle. Of course, the bottle needs charging, but only once every two weeks. Be aware that the bottle can only kill viruses and other microorganisms. It cannot filter out any dirt.
Price range: around $20 to $120, depending on its features and brand.

UV Sanitizer
Today, sanitizer is a must-have item for everyone. Students who visit many public places and change locations during the day need to protect themselves from germs. Unfortunately, you cannot clean everything using soap or usual sanitizers. UV lights are helpful when you need to cleanse your clothes or phone.
Price range: from $20 to $200, depending on its power.

Posture Trainer
A posture trainer is needed for everyone who spends more than 5 hours sitting. For students, it might reach up to 8-10 hours. Placed on your upper back, this tiny device reminds you to keep your back straight. The gadget can identify when you slouch or change your pose while sitting. You need to connect your posture trainer to your phone using an app.
Price range: you can buy an intelligent posture trainer for $50, more advanced options can cost up to $100.

🤖 Fun Gadgets for Students

Many gadgets are designed to make people a little happier. Take a look at our top picks of fun gadgets for students.

Wi-Fi Coffee Maker
Your morning coffee can be ready as soon as you get out of bed. A smart coffee maker works with an app or Alexa. They come with different features like cup capacity, types of coffee, and Wi-Fi range.
Price range: from $100 to $1000.

Wake-Up Light
A wake-up alarm is a natural and less disturbing alternative to usual alarm clocks. It fills your room with yellow light, which mimics the sunrise. This device will help you wake up more effortlessly in the morning.
Price range: you can buy a decent wake-up light for roughly $100.

Smart Speaker
A voice assistant is a reliable digital helper. You can choose the music that plays on your speaker or ask simple questions instead of googling them. Apple's Siri, Amazon's Alexa, and Google Assistant are the three most popular smart speakers.
Price range: starts from $20 and doesn't have limits for professional stereo systems.

Desktop Cleaner
Students usually spend up to 10 hours a day at their desks if they study remotely. Your workstation might also become a place where you eat and spend your free time. It can get pretty messy. A desktop cleaner is a miniature version of a standard robot vacuum. It will keep your desk clean while you are occupied with other tasks.
Price range: from $15 to $100.

Mini Fridge
A mini-fridge fits in any dorm room. You can store drinks, your leftovers, and medication there. Some mini fridges come with a freezer, so you can even keep ice cream or ice packs. Several colleges rent out mini-fridges if you don't want to purchase your own.
Price range: $50 to $300.

Friendship Lamp
Friendship lamps help you keep in touch with your loved ones. Even if you don't have enough time to meet or talk, this device will help you stay connected. A friendship lamp is linked to an app and changes colors. You need to tap your lamp, and your friend's light will turn on or change color.
Price range: roughly $200.

VR Glasses
Do you ever get tired of reality? Try another one! You can use VR glasses to play games, explore new places, watch videos, and even do sports. Their advanced features include 3D visual experiences, an eye-tracking system, and top stereo technologies.
Price range: Virtual glasses and headsets can cost from $20 to $10000.

Thank you for reading our blog post! We hope you have found something to make your studies more manageable and productive. However, don't be too hasty with any new purchases. We recommend reading reviews and comparing prices on different websites before buying anything.

Share this article with your friends to help them find their ideal study gadget.

Source: https://custom-writing.org/blog/top-gadgets-you-need-study-smarter