How to Open Class Participation to Everyone
Having a wide range of participation tools—in addition to cold calling—helps teachers encourage students of all backgrounds and dispositions to contribute.
Every student deserves to be heard in the classroom but making sure that happens isn't easy. The eager student with their hand up after every question may shut down contributions from others, while the wallflower in the back may have a perspective others haven't considered but don't feel comfortable sharing it. Balancing the dynamics between students requires the teacher to work very intentionally to make space so that every student can share their thoughts. And hearing from a variety of students is essential for on-the-fly formative assessment—is it time to move on, or does this point need reteaching?
Cold calling is a commonly used technique to ensure that more voices are heard. It's also useful for identifying disengaged students and keeping everyone focused. It can be an easy—yet powerful and effective—tool to engage every kid when done correctly and equitably, preventing the discussion from being dominated by the ones who always raise their hands.
But teachers tell us cold calling shouldn't be the sole practice used to motivate students to participate. And participation doesn't have to mean speaking to the whole class anyway—it can take many forms, from a simple hand gesture to a group brainstorm to an asynchronous opportunity to chime in after class.
Participation can also mean following up on another student's answer or even asking a question rather than responding to one, which can be nerve-wracking when students have to admit they don't understand something. But others might be experiencing the same confusion, and both the teacher and the rest of the class can benefit from one student speaking up to ask for clarification, so students need to know that expressing confusion is acceptable—even welcome.
Teachers have a myriad of participation techniques at their disposal to ensure that all students, including kids who might not do well in social settings, have a voice in the classroom. For these students, the fear of participation and the hesitation to do so are justified: They might not respond as quickly as their peers simply because they need more time to process information, or because speaking up in a crowded classroom is anxiety-inducing to them.
Creating a safe environment for everyone to participate requires teachers to have a wide range of participation tools that are compatible with the strengths of students of diverse backgrounds and abilities. If you're looking for those tools, you'll find something here that works for you.
Everyone Has An Answer—or a Question
Students need an entry point into class discussions, and teachers can use strategies that invite them to contribute without fixating on getting the correct answer.
Simple check-in questions that can be answered with a thumbs-up or other hand signals can help break the ice, set a positive tone in the class, and allow the teacher to gauge student understanding. To start off a lesson on percentage, for instance, middle school math teacher Ann Young explains to her students how they can participate in a nonverbal, low-stakes way: "If you even have an entry point into the problem, something to contribute to the problem, you're going to put your thumb up…. So about a minute to think and then as soon as you have some kind of something to contribute your thumb is going up."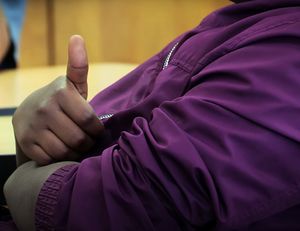 © Edutopia
A simple thumbs-up indicates that a student is ready to contribute—when all thumbs are up, the teacher can start the discussion.
These quick check-ins serve as a low-stakes participation strategy for English language learners (ELLs) and as a brief assessment of student comprehension and processing needs for teachers, according to Larry Ferlazzo and Katie Sypnieski, veteran teachers and authors of The ESL/ELL Teacher's Survival Guide. "After an explanation or lesson, a teacher could say, 'Please put thumbs up, thumbs down, or sideways to let me know if this is clear, and it's perfectly fine if you don't understand or are unsure—I just need to know,'" they suggest.
To solicit more substantive answers from students and keep track of who's already contributed to a discussion, try using the rubber ducks strategy—handing out a fun, potentially silly object such as a rubber duck to each student who contributes something. This visual cue shows who has yet to speak suggests high school teacher Lindsay Mitchell.
Or you could use equity sticks—writing students' names on popsicle sticks or index cards and cycling through until everyone's name has been called. This keeps students mentally alert and poised to contribute, writes educational consultant Shane Safir, and routine use of this practice also "promotes a culture of participation and attention."
Peer-to-Peer Options
One of the most effective ways to encourage students to participate is to let them discuss in small groups, and varying the structures of these discussions both empowers students to take ownership of their learning and allows teachers to assess student understanding in real-time.
Well-designed discussions not only promote equity in the classroom but also shift "the talk ratio and the cognitive load from you to your students," writes Safir. She recommends alternating between simple discussion arrangements such as Think-Pair-Share and Talking Pennies, where students are each given the same number of pennies to ensure that each speaks the same number of times. "A student who has used up his or her pennies must wait for all the other students' pennies to be in the middle before speaking again," Safir explains.
When implementing Think-Pair-Share with ELLs, consider giving them the option to choose their own partner, which "prevents you from inadvertently pairing them up with someone they don't feel comfortable asking for help or with whom they really don't get along," writes elementary teacher Joanna Schwartz.
Student-led discussions like Socratic seminars also help boost participation by prompting learners to prepare the materials in advance. While it takes quite a bit of planning and practice to make a Socratic seminar a meaningful experience, this type of discussion promotes "student ownership, deep thinking, critical questioning, academic vocabulary usage, and a rooted sense of community," writes high school language arts teacher Mary Davenport.
To help students sharpen their speaking and listening skills, try sharing with them a map of their discussion to show how the interactions rolled out in real-time, and launching a debrief session about what the students have accomplished and what they should strive to improve.
The Power of Asynchronous Participation
Conventional participation techniques don't always take into account the needs of shy kids, introverts, ELLs, and those who might need extra time to process information before formulating a response. Teachers can address this issue by differentiating and personalizing participation so that students of all backgrounds and dispositions feel comfortable expressing their thoughts. In the classroom, waiting for 15 to 20 seconds after asking a question before having anyone answer can help, former teacher John McCarthy explains.
Another way to help is to provide students with ways to contribute that don't involve speaking. Digital innovation has ushered in an abundance of collaborative tools that enable student participation in ways that ease some of the pressure associated with social interaction or public speaking. Try letting students share their thoughts and ask questions in a Google Doc, Google Classroom, or Padlet, suggests former sixth-grade teacher Katy Farber. Farber found that her introverted students who "struggle with out-loud participation can shine as digital participants," and this opens up opportunities for asynchronous participation that doesn't have to happen during class time.
You might also consider allowing students to submit their input anonymously through apps like Nearpod, recommends Stephanie Toro, an assistant professor at the Universidad de los Andes. "They will feel their ideas represented without any anxiety of being recognized," she writes. "They personally will know that they were heard and contributed to the collective learning experience." For ELLs and others, this reduces the pressure of having to respond out loud and gives them time to process and formulate a written response.
The Question of Measurement
Striving to improve student participation will lead a teacher to consider the question of whether and how to grade it. Although teachers often grade participation as a way to motivate every student to contribute in class—a positive outcome—many worry about grading's vulnerability to implicit bias of many kinds, they tell us in discussions on social media.
For one, traditional participation is graded based on how often a student speaks up in class, which benefits native English speakers over English language learners and outspoken, gregarious students over shy, introverted kids. These differences may be compounded by racial and gender bias. And the participation grade is often determined by a teacher's recent observation of students, which can erase an important part of students' journey earlier in the year that was indicative of their growth, educators tell us.
And all of that is leaving aside the fact that if a teacher hasn't developed a really thorough way to collect data on participation, they're just relying on their memory of each of their many students' contributions over an entire marking period.
It's high time teachers looked at participation with a more nuanced lens that recognizes the diverse abilities, backgrounds, and dispositions of all students. The good news is that when you make it a priority to use a wide range of participation tools that meet the needs of diverse learners, you'll have even less reason to grade participation—students' feeling seen and included will translate into a genuine, authentic motivation to contribute and learn.
Source: https://www.edutopia.org/article/making-sure-every-student-has-voice-classroom