Global School Recovery Tracker Monitors Education Status
In Russia and Italy most schools are open for in-person education and with teachers and school staff being prioritized for vaccination. In South Africa and Myanmar, there are no education services available at all, due to COVID-19, and while vaccinations have been approved for distribution, they're not available yet to teachers or staff. As for the United States, education is a mixed story, with schools operating under a combination of in-person, hybrid, and remote learning, even with teachers prioritized for vaccines.
That data was on a new "global education recovery tracker," a project developed by Johns Hopkins University's eSchool+ Initiative, the World Bank, and UNICEF. The purpose of the tool is to help 200 countries and territories make decisions about school reopening and recovery planning. According to the organizations, the education of 1.6 billion children has been disrupted over the past year due to the pandemic.
The program has incorporated data in four areas:
Status of schooling;
Modalities of learning (remote, in-person, or hybrid);
Availability of remedial educational support; and
Status of vaccine availability for teachers.
To gather the information, the countries were divided up among the three partners, which are each responsible for collecting data from publicly available sources, including education agencies, state-sponsored COVID-19 dedicated websites, and news sources.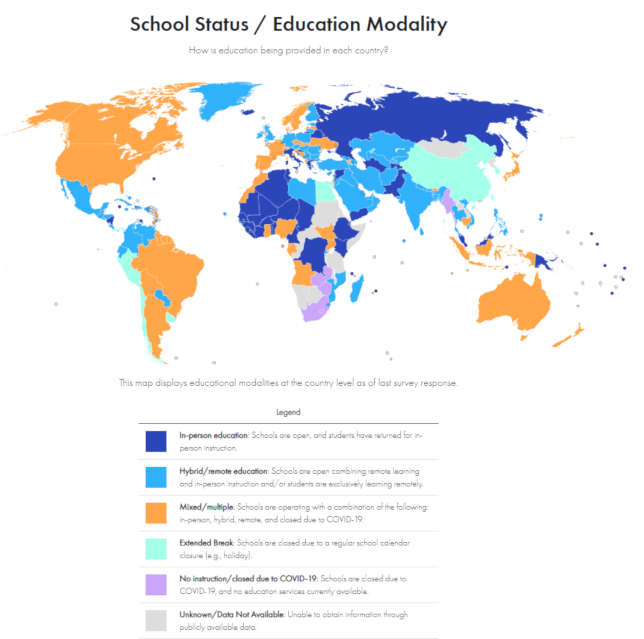 Data through early March 2021 indicated that 51 countries have returned to in-person education. In more than 90 countries, including the United States, students are being instructed through multiple modalities, with some schools open, others closed and others offering hybrid education.
Some trends noted by the project: In the East Asia and Pacific region, in-person education has mostly returned, with strict physical distancing measures. South Asia, Central Asia, and Europe are mainly relying on hybrid education where the infrastructure allows. In Latin America, countries are using mixed approaches that include remote, hybrid, and in-person education.
Also, as of early March, teachers were not being immunized as a priority group in low- and low-middle-income countries. Of the 130 countries where vaccine information was available, more than two-thirds weren't currently vaccinating teachers as a priority group.
"The learning poverty rate — the proportion of 10-year-olds unable to read a short, age-appropriate text — was 53% in low- and middle-income countries prior to COVID-19, compared to only 9% for high-income countries," said Jaime Saavedra, World Bank global director for education, in a statement. "A year into the pandemic, continued disruptions to schooling, shifts in learning modalities, and concerns for students' well-being are ever greater, and this learning crisis is getting worse. COVID-19 related school closures are likely to increase learning poverty to as much as 63%."
He added that the collection and monitoring of the data is "critically important to help us understand the magnitude of what support is needed as we go forward, learning from the major trends observed among countries."
Eventually, the Tracker will provide additional data on student supports, including changes to the school year schedule, tutoring, and remediation.
Source: https://thejournal.com/articles/2021/04/12/global-school-recovery-tracker-monitors-education-status.aspx