Fifth-grader shares Yakima Valley culture with students around the world through Zoom
Early on Thanksgiving morning, fifth-grader Michelle Flores talked about the food she would be enjoying later that day. With pride, she said her Mexican American family would have tacos, mole and pozole, and that Thanksgiving is one of her favorite holidays because she gets to spend time with family.
Her audience was about 20 teachers, students, and family members watching online from Kenya.
Once a month, students and educators from around the world — including the Yakima Valley — gather on Zoom to share songs, poems, or other aspects of their cultures.
The calls are organized by teachers at Maple Clicks Learning Centre, a school in Gikambura, Kenya, a city about 30 minutes outside the capital of Nairobi.
Barge-Lincoln Elementary School music teacher Marie Webb learned about the Zoom calls in August after she received her Google Trainer certification. She was added to an email group that included some Maple Clicks teachers who were in the process of organizing the first of these calls. Webb was interested and attended the first meeting.
"It's amazing to see the kids and to draw from their experiences," Webb said.
She brought the idea of having a Barge-Lincoln student participate to her administrators and found them supportive.
Webb said Flores was chosen to present in part because she has experience speaking to crowds, including the Yakima School Board.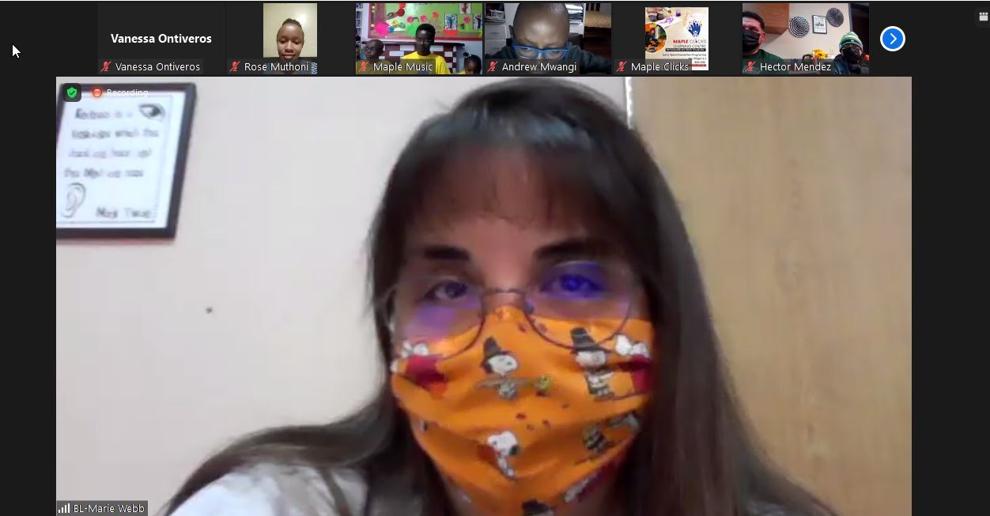 "She has been a student of mine since kindergarten, for six years, and she's one of my steel drum students as well," Webb said. "She's also a student leader."
Webb and Flores had two weeks to prepare for the presentation.
Barge-Lincoln Principal Hector Mendez, Webb, Flores, and her dad joined the Zoom call from the school.
During Thursday's meeting, Flores was the only student from the United States in attendance. She talked about Yakima and American Thanksgiving. She gave part of her presentation in Spanish to share that aspect of her culture.
Flores said she was nervous before the meeting.
"I felt like I was gonna mess up a little and because there was a lot of people there that I didn't know," she said.
Watching the screen, Webb said she saw the other participants sit up and take notice during Flores' presentation, particularly the part in Spanish.
After it all went well, Flores said she enjoyed the opportunity and would do it again.
"It feels pretty special," she said of being a student representative.
The other students, who were all elementary-age and from Kenya, presented songs and poems.
A student from Indonesia was also invited to present, but Webb said a scheduling conflict arose. The time zone differences have occasionally proved challenging. Kenya is 11 hours ahead of Washington. Thursday's Zoom started at 7 a.m. Pacific Time, which was 6 p.m. in Kenya.
Webb said that the meetings will likely continue throughout the school year and she and Barge-Lincoln's principal would like to see more students participate.
"Just to have them see other kids, other students, who might be going through the same thing that they're going through in a different part of the world kind of gets them out of their own neighborhood," she said.
Source: https://www.yakimaherald.com/news/local/fifth-grader-shares-yakima-valley-culture-with-students-around-the-world-through-zoom/article_6e6c3c41-aa76-5569-b3cb-dff49689949e.html